Ching-Yun Hu and Prodigies of the Philadelphia Young Pianists Academy
 "She has the suspense of Brendal, Perahia's lyricism and Barenboin's depth. Are we witnessing the birth of a new Martha Argerich? "
YEDIOT ACHARONOT ( Israel )
"…POETIC USE OF COLOR AND CONFIDENTLY EXPRESSIVE PHRASING…"
– THE PHILADELPHIA INQUIRER
PROGRAM:                          
DATE:  Saturday, February 17, 2018
LOCATION:  Peace United Church
900 High St. Santa Cruz, CA
Time:  Master Class: 2 PM
Concert: 7:30 PM
Buy Tickets Online Now
Tickets:
Students $10
Seniors $25
General $35
Saturday, February 17, 2018: Ching-Yun Hu and Prodigies of the Philadelphia Young Pianists Academy
There will be a master class for young Santa Cruz pianists at 2 p.m.
Donations will be taken at the door.
About the Artists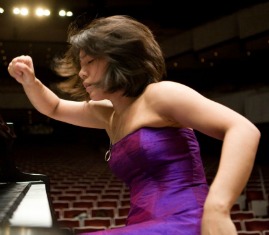 Declared a "…first-class talent…" and praised for her "…poetic use of color and confidently expressive phrasing…" (The Philadelphia Inquirer), the distinguished Taiwanese pianist CHING-YUN HU is recognized and acclaimed worldwide for her dazzling technique, deeply probing musicality and directly communicative performance style.
Ching-Yun Hu's concert career has flourished with a host of engagements on five continents after winning the 2009 Concert Artists Guild International Competition in New York City and the 2008 Arthur Rubinstein International Piano Master Competition in Tel Aviv, where she was also awarded the Audience Favorite Prize. Immediately after, she was engaged for a seven-city tour across Israel and a special invitation from the Israel Philharmonic Orchestra to perform Beethoven's Piano Concerto No. 1 on only a week's notice.
During the 2016 – 2017 season, Ms. Hu will give the world premiere of Yiu-kwong Chung's Piano Concerto, "The Red Cliff", with the Chamber Orchestra of Philadelphia and Dirk Brosse at the Kimmel Center.  She will perform and record "Before the Wresting Tides" by Jeremy Gill for the Boston Modern Orchestra Project with Gil Rose at Boston's Jordon Hall. Ms. Hu will make her fifth appearance with the Taipei Chinese Orchestra in Taiwan, and return to Germany at the Weilburger Schlosskonzerte, performing Beethoven Concerto No. 1. For recitals and chamber music appearances, she will be heard throughout the United States, Taiwan, China, as well as at the Chamber Music Series of Daejeon Philharmonic Orchestra in South Korea.
In 2015-2016 season, Ms. Hu appeared in recitals in New York, Philadelphia, Miami, Tel Aviv, Budapest, and at the Muzikmesse Frankfurt. She performed for the gala concert of the Los Angeles Chamber Orchestra under Jeffrey Kahane. She soloed with the Wyoming, Bozeman, and Topeka Symphony Orchestras and Orquestra Petrobras Sinfônica and Orquestra Filarmônica do Espírito Santo in Brazil; Taipei Chinese Orchestra at the Macau International Music Festival; New York's Massapequa Philharmonic Orchestra; and South Korea's Daejeon Philharmonic Orchestra.
Ching-Yun Hu made her debut with The Philadelphia Orchestra in 1999. A sought-after soloist, she has collaborated with the symphony orchestras of Aspen, New York, Philadelphia, Delaware, DuPage (IL), Midland (MI), Mississippi, Northwest Arkansas and Wyoming, while abroad she has appeared with the Israel Philharmonic Orchestra, and philharmonic orchestras in Johannesburg, Rio de Janeiro, Wuhan (China), Maidstone (England), and all major orchestras in Taiwan.
In recitals, Ms. Hu has appeared at prestigious concert halls across the globe, including Weill Recital Hall at Carnegie Hall and Lincoln Center's Alice Tully Hall, Kennedy Center for the Performing Arts, Aspen Music Festival, Wigmore Hall and Southbank Centre (London), Salle Cortot (Paris), Concertgebouw (Amsterdam), Herkulesaal (Munich), Franz Liszt Academy of Music (Budapest), Duszniki International Chopin Piano Festival and Rubinstein Philharmonic Hall (Poland), Opera House (Tel Aviv), National Concert Hall (Taipei) and Japan's Osaka Hall. Ms. Hu is also a frequent guest artist at distinguished music festivals throughout the world.
An avid Chopin interpreter, Ching-Yun Hu's debut recording, an all-Chopin CD released in 2011 on the Taiwanese label ArchiMusic, won Taiwan's 2012 Golden Melody Award for Best Classical Album of the Year. The fall of 2013 saw the release of her second CD – music of Granados, Mozart and Ravel – on the CAG Records.
A native of Taipei, Ms. Hu made her concerto debut at the age of 13 with the Poland Capella Cracoriensis Chamber Orchestra on tour in Asia. One year later, she moved to the United States to continue her musical studies at The Juilliard School, working with Herbert Stessin, and later worked with Sergei Babayan at the Cleveland Institute of Music. She also studied chamber music with Joseph Kalichstein and Seymour Lipkin, and received additional guidance from Karl-Heinz Kammerling. and Tamas Vasary.
In 2008, Ching-Yun Hu was awarded an honorary prize from Taiwan's Minister of Culture, recognizing her artistic achievements to date. In addition to performing, Ms. Hu is a keen advocate for the promotion of classical music. She founded the Yun-Hsiang International Music Festival in Taipei in 2012 and the Philadelphia Young Pianists' Academy (www.pypa.info) in 2013, taking place at the Curtis Institute of Music.
Ching-Yun Hu serves on the piano faculty of the Esther Boyer College of Music and Dance at Philadelphia's Temple University.