Jorge Luis Pacheco
With his Cuban Jazz Trio in their West Coast Debut
Sunday, October 1,  2023    4:00  PM
Peace United Church of Christ

Tickets: New Prices:
$40 General online and at the door
$30 Seniors at the door
$25 College and High School Students with I.D. at the door
Jorge Luis Pacheco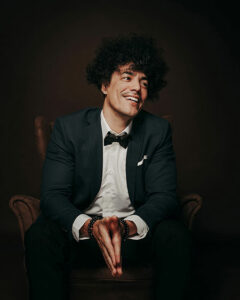 Hailing from Havana, pianist Jorge Luis Pacheco is a fiery young pianist with "flying hands." He is also a singer and a composer. His music is a confluence of Cuban jazz, Cuban and Afro Cuban music, American jazz, and classical music with a measure of contemporary pop and soul. He has performed all over the world including prominent jazz clubs such as Dizzy's Jazz at Lincoln Center, theaters, and festivals such as the Blue Note Jazz Festival in New York, as well as the Sziget Festival in the City of Budapest, Hungary, and the Red Sea Jazz Festival in Israel. He also performed at the Kennedy Center in Washington with his quartet and solo piano several times as well as the legendary Apollo Theater, where a lifetime achievement award was presented to Herbie Hancock. Recently, Jorge performed at Berklee School of Music in Boston, where he also gave a Master class. He has collaborated with the likes of Wynton Marsalis and the LLCO, Arturo O'Farrill, and the legendary Lenny White as well as Dave Weckl and Richie Goods. He has a Master in Composition from the Instituto Superior de Arte de LA Habana.
Pacheco truly is a phenomenon of the piano, continuing the tradition of Chucho Valdes but more importantly a pianist with his own identity…" Arturo O´Farrill
"Jorge Luis Pacheco is a virtuoso pianist that defies genre"-Monty Alexander
Gerson Lazo-Quiroga was born in Concepcion, Chile. At the age of 5 he began learning to play guitar from his father. A few years later, his interest switched to electric bass, deciding to make of it his life-long career. In 2014, he was awarded the Presidential Scholarship at Berklee College of Music where he currently studies Music Production & Engineering, Performance and Jazz Composition.
Gerson has had the opportunity to partake in several notable festivals, among them the Montreal Jazz Festival, Monterey Jazz Festival, Beantown Jazz Festival with Al Jarreau, Panama Jazz Festival next to Michelle Coltrane, The National Folk Festival and several others. He also had the honor of playing in the "Pablo Ziegler Meets Berklee" concert featuring the Latin Grammy-winning pianist and composer Pablo Ziegler. In 2017, Gerson and his group Mixcla, were awarded the "40th Downbeat Magazine Student Music Award" being recognized as one of the most promising rising latin bands.
In November of 2017, Gerson was invited to arrange and play bass for The Signature Series at Berklee which presented a musical celebration of Toninho Horta, a founding pillar of Brazilian popular music, featuring Horta himself. In October of 2018, Gerson was called to be part of the homage to the music of Paquito D' Rivera and Berta Rojas, performing and working side to side with these incredible musicians.
​
Gerson has worked as musician and producer for Mixcla, nominated two years to the "Boston Music Awards" as International Artist of the Year, Adonis Puentes and The Voice of Cuba Orchestra, Billy Childs, Danilo Perez, "Osain Del Monte", Regina Carter, Dianne Reeves and Sean Jones and recently awarded with the "43rd Downbeat Magazine Student Award" in the category of Engineered Studio Recording.
Jorge Luis Pacheco, Pianist  https://pachecopiano.com
Reiner Mendoza
Reiner Mendoza is one of the most prominent Cuban drummers and percussionists on the Cuban music scene. His beginnings as a percussionist playing rhumba and folk music at popular events in Havana and religious "fiestas" has made him a unique drummer in Cuba, since in addition to being a virtuoso on his instrument, he possess a great knowledge of all the rhythms of Afro-Cuban and African music which he combines within the drums.
Throughout his career Reiner has performed on some of the most prestigious stages in Cuba and in the World, such is the North Sea Jazz, the New Orleans Jazz and Blue Note Jazz Festivals, Lincoln Center, and with the famous Akokan Orchestra with the Elb Philharmonie in Hamburg, Germany, which was nominated for a Grammy in 2019.
Generously Sponsored by Danny Alvarez, Broker Associate, David Lyng Real Estate and Ryan Buckholdt, Cross Country Mortgage