Program V

The Tempest Trio
Saturday, February 16 7:30 pm
Peace United Church
900 High Street, Santa Cruz
Pianist Alon Goldstein violinist Ilya Kaler
& cellist Amit Peled
Ludwig van Beethoven (1770-1827)
Trio No. 7 in B Flat Major, Op. 97 "Archduke"
Allegro moderato Scherzo (Allegro) Andante cantabile ma però con moto. Poco piu adagio, D major Allegro moderato – Presto
INTERMISSION
Felix Mendelssohn (1809-1847)
Trio No. 1 in D Minor, Op. 49
Generously sponsored by
Rowland & Pat Rebele
Dr. & Mrs. Lester Miller
Marianne LaCrosse
Staff of Life Natural Foods
Alon Goldstein, IIya Kaler, and Amit Peled
Alon Goldstein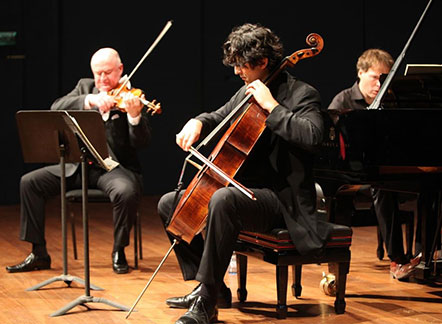 Alon Goldstein, the pianist of the Tempest Trio, is one of the most original and sensitive pianists of his generation, admired for his musical intelligence, dynamic personality, artistic vision and innovative programming. His orchestral debut took place when he was 18 with the Israel Philharmonic under Maestro Zubin Mehta; in April of 2008, he returned with Maestro Herbert Blomstedt. Since then, Maestro Goldstein has performed in Los Angeles, Philadelphia, San Francisco, Baltimore, St. Louis, Houston, Vancouver and Kansas City. Abroad, Maestro Goldstein has collaborated with orchestras in Paris, Russia, Romania and Bulgaria.
During his 2012-13 season, Maestro Goldstein had toured Central and South America with the Israel Chamber Orchestra under the baton of respected conductor Yoav Talmi, giving highly acclaimed series of sixteen concerts that featured Beethoven's Piano Concerto No. 2 and Mendelssohn's Piano Concerto No. 1. Other concerts include his debut with the Toronto Symphony Orchestra – featuring Tchaikovsky's Piano Concerto No. 2 – and his performance with the Tokyo String Quartet in its final season of concerts.
Maestro Goldstein's most recent debuts include his Carnegie Hall appearance in the Mozart Triple Concerto with Joseph Kalichstein and Shai Wosner, his successful performance with the London Philharmonic Orchestra and Vladimir Jurowski, and playing with the Orchestre Philharmonique de Radio France, conducted by Leon Fleisher. His recital and chamber music concerts in Beijing, Guatemala City, Kent (UK), Chicago, Jerusalem, and Tel Aviv were all highly acclaimed.
As a recording artist, Amit recently released his fourth Centaur Records CD, "Collage" which will be closely followed by his recording of the Schumann Cello Concerto with the Washington Chamber Orchestra. These records follow three immensely successful installments, "The Jewish Soul," "Cellobration," and "Reflections." As an active chamber musician, Peled is a founding member of the famed Tempest Trio with pianist, Alon Goldstein and violinist, Ilya Kaler. Their Dvorak CD on Naxos has been described as "The best 'Dumky' on disk ever!"
IIya Kaler
Ilya Kaler, the only violinist to win Gold Medals at three highly prestigious competitions — The International Tchaikovsky Competition (Moscow, 1986), The Sibelius (Helsinki, 1985), and the Paganini (Genoa, 1981), has received enthusiastic reviews for both his distinguished solo performances and highly acclaimed recordings, now available on Naxos label.
He has performed with the Leningrad, Moscow, and Dresden Philharmonic Orchestras, the Montreal Symphony Orchestra, the Danish and Berlin Radio Orchestras, and the Moscow and Zurich Chamber Orchestras, among others. Ilya Kaler's solo recitals have taken him throughout Europe, Scandinavia, East Asia, and the former Soviet Union. In recent years, Maestro Kaler has performed with the Detroit, Baltimore, Lansing and Seattle Symphony Orchestras, and at the Kennedy Center in Washington D.C. in the United States, and has toured Germany, Ireland, Israel, Italy, Singapore, Korea, Taiwan, England, Venezuela and Japan. In Japan, he played with the New Japan Philharmonic, the Century Symphony Orchestra and the Hiroshima Symphony.
Also an active chamber musician, Maestro Ilya Kaler has performed for several summers at the Newport Music Festival in Newport, Rhode Island. Maestro Kaler has been a Professor of Violin at the Eastman School of Music in Rochester, New York, Indiana University School of Music in Bloomington, Indiana, and is currently a Professor of Violin at DePaul University School of Music in Chicago, Illinois.
Amit Peled
From the United States to Europe to the Middle East and Asia, Israeli cellist Amit Peled, a musician of profound artistry and charismatic stage presence, enjoys global presence as both one of the most acclaimed cellists on the concert stage and one of the most profound pedagogues today. Maestro Peled has performed as a soloist with many orchestras and in the world's major concert halls such as Carnegie Hall and Alice Tully Hall, New York; Salle Gaveau, Paris; Wigmore Hall, London; Konzerthaus, Berlin; Tel Aviv's Mann Auditorium, and many more.
Maestro Peled also frequently performs and gives master classes at prestigious summer music festivals such as the Marlboro Music Festival, Newport Music Festival, Seattle Chamber Music Festival, Heifetz International Music Institute, Schleswig Holstein and Euro Arts Festivals in Germany, Gotland Festival in Sweden, Prussia Cove Festival in England, The Violoncello Forum in Spain, and the Mizra International Academy and Festival in Israel as a distinguished guest artist.
Maestro Peled has been featured on television and radio stations throughout the world, including NPR's "Performance Today," WGBH Boston, WQXR New York, WFMT Chicago, Deutschland Radio Berlin, Radio France, Swedish National Radio & TV, and Israeli National Radio & TV. Maestro Peled, aside from his concert performances, teaches as a Professor at the Peabody Conservatory of Music of the Johns Hopkins University.
Be sure to catch Alon Goldstein, Ilya Kaler, and Amit Peled during the Tempest Trio's performance on February 16th, 2019.
Alon Goldstein
"….Alon Goldstein, who made a superb Philadelphia Orchestra debut last summer, showed even more depth and
style in Saturday's performance….You wanted encores—preferably, his entire repertoire.
― extremely cultivated, refined command of the keyboard"
– Philadelphia Inquirer
IIya Kaler
"…a consummate musician, in total control at all times, with a peerless mastery of his violin."
– The Washington Post
"…in a class by themselves … [combining] the perfection, passion, and phrase-sculpting of Michael Rabin with the energy, excitement, and immediacy of Jascha Heifetz."
– American Record Guide, on Kaler's Paganini Caprices album
Amit Peled
"By all evidence, Amit Peled is a superb cellist. His technical prowess in the Davidoff and Ligeti vouchsafe that; and his tone, of pellucid purity, gleams with a glint of gold in the slow, lyrical numbers."
– Fanfare Magazine
"… a warm, glowing tone. He seized the moment, playing with a seductive timbre and an emotionally pointed approach to phrasing that made you want to hear him again…"
– The New York Times