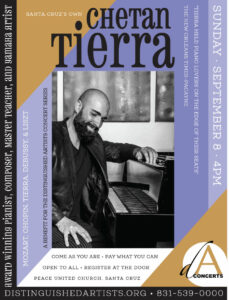 Program III
Pianist Brian Ganz
All Chopin Program
Sunday, November 18 4 pm 
Peace United Church
900 High Street, Santa Cruz
Brian Ganz is widely regarded as one of the leading pianists of his generation.
A laureate of the Marguerite Long Jacques Thibaud and the Queen Elisabeth of Belgium International Piano Competitions, Mr. Ganz has appeared as soloist with such orchestras as the St. Louis Symphony, the St. Petersburg Philharmonic, the Baltimore Symphony, the National Philharmonic, the National Symphony and the City of London Sinfonia, and has performed with such conductors as Leonard Slatkin, Marin Alsop, Mstislav Rostropovich and Piotr Gajewski.
The Washington Post has written: "One comes away from a recital by pianist Brian Ganz not only exhilarated by the power of the performance but also moved by his search for artistic truth." For many years Mr. Ganz has made it his mission to join vivid music making with warmth and intimacy onstage to produce a new kind of listening experience, in which great works come to life with authentic emotional power. As one of Belgium's leading newspapers, La Libre Belgique, put it, "We don't have the words to speak of this fabulous musician who lives music with a generous urgency and brings his public into a state of intense joy."
In January of 2011 Mr. Ganz began a multi-year project in partnership with the National Philharmonic in which he will perform the complete works of Chopin at the Music Center at Strathmore outside of Washington D.C.. After the inaugural recital, The Washington Post wrote: "Brian Ganz was masterly in his first installment of the complete works [of Chopin]."
Mr. Ganz is on the piano faculty of St. Mary's College of Maryland, where he is artist-in-residence, and is also a member of the piano faculty of the Peabody Conservatory. He is the artist-editor of the Schirmer Performance Edition of Chopin's Preludes (2005).
Visit our Tickets page for pricing. If you need any more information, please don't hesitate to contact us.
Generously Sponsored by Donner Land and Homes, Inc.
"One comes away from a recital by pianist Brian Ganz not only exhilarated by the power of the performance but also moved by his search for artistic truth."