Distinguished Artists Proudly Presents
A Benefit for the Distinguished Artists Concert Series
 Award Winning Pianist, Composer and Master Teacher
Yamaha Artist
Chetan Tierra
Program:
Works by Mozart, Chopin, Tierra, Debussy, and Liszt
DATE:
Sunday, September 8, 2019
LOCATION:
Peace United Church
900 High St. Santa Cruz, CA
Time:
Performance: 4 PM

Tickets:
Open to All: Register at the door
Come as You Are
Pay what you can
CHETAN TIERRA, a Yamaha Artist, pianist, and composer has delighted audiences across the globe in recital, as soloist with orchestra, and on radio and TV. He has performed on some of the world's most renowned concert stages after making strong and winning appearances in the most rigorous and prestigious international piano competitions such as Queen Elisabeth, Van Cliburn, Jose Iturbi, Hilton Head, New Orleans, Unisa, and Seoul. The NY Concert Review praised his 2006 Carnegie Hall debut as "magnificent", and his charismatic persona and emotional style have led to many praises from audiences and critics alike. "Tierra held piano lovers on the edge of their seats." says Chris Waddington from the Times-Picayune in New Orleans. "Pianist Chetan Tierra, Magic and Mastery!" says Lyn Bronson from the Peninsula Reviews.
Mr. Tierra has been at the forefront of musical evolution after landing the title of Artist in Residence at the prestigious online music school, Masterful Musician. It is here where he teaches students across the globe and mentors professional musicians embarking on their own competition and concert careers. The school also has a growing library of video courses, presented by Chetan, that are designed to help musicians of all kinds build a flawless foundation for musical mastery. These courses include Master Your Practicing where Chetan reveals all the techniques the professionals use to reach their unmatched abilities, Pianists Training Academy which is a full pre-conservatory level complete piano learning system, Musical Mastery where Chetan highlights all the highest level artistic thoughts and executions seen and used on the biggest concert stages of today, and Artist Development Intensives where he teaches how to think, live, behave and build the charismatic abilities and confidence to wow audiences and be a magnet to growing fan bases. Mr. Tierra also enjoys a residency with the San Diego Piano Academy.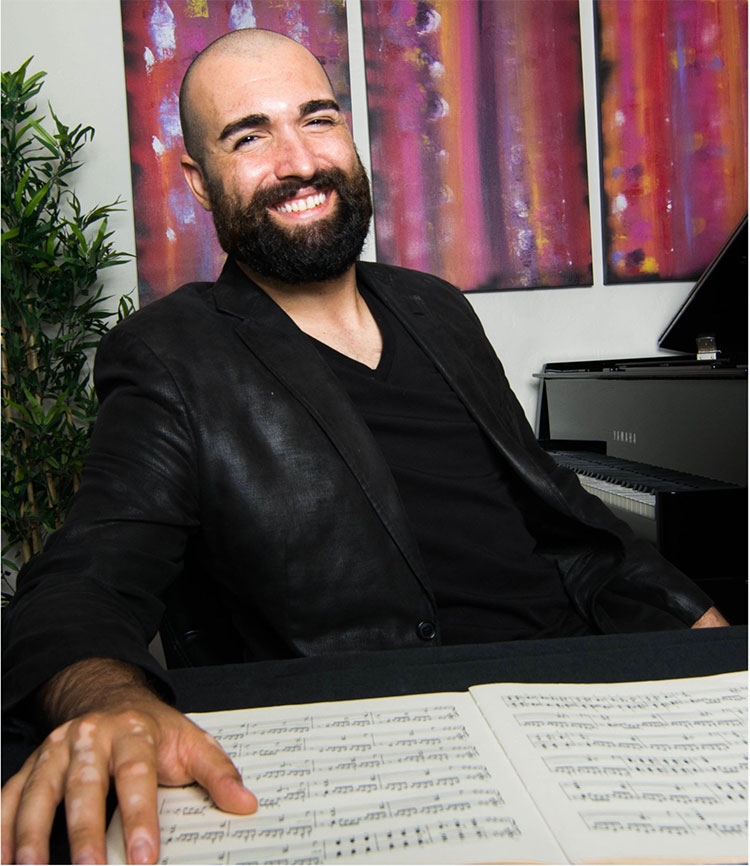 Also an avid composer, Chetan's works are quickly garnering international attention for their undeniably pure, minimal, yet sophisticated, emotionally charged, hypnotic and meditative qualities, most notably completing his enchanting and modern piano cycle called Moon Shadows. Mr. Tierra has spent time in several bands as a songwriter. His groups have been seen on stages in North America, and his group, Skyterra, won Best New Artist in San Diego, CA. His songwriting also caught the ear of the legendary producer T-Bone Burnet whom he was lucky enough to work with and hone his abilities.
Chetan began playing the piano immediately after birth and later his father would tie him to his lap, point to the piano keys, and Chetan would play. His father was his first teacher and worked with him daily developing his talents. At the age of 8, Chetan began more traditional lessons. He gives much of his credit to his former teachers Antonio Pompa-Baldi at the Cleveland Institute of Music where he got his degrees and Artist Diploma and Hans Boepple from the Santa Clara University who he worked with in high school. He's also worked with some of the world's best performers and teachers at the Juilliard school, Aspen Music Festival, Bowden Music Festival, Prague Piano Festival, Chopin Summer Academy in Warsaw, and Brevard Music Festivals, and he has also studied with such talents as Peter Serkin, Richard Goode, Veda Kaplinsky, Bruce Murray, Sergei Babayan, Logan Skelton, John Perry, Pawel Skrypek, Alvin Chow, Jerome Lowenthal, Ian Hobson, John Perry, Paul Schenly, and Daniel Shapiro.
Currently, Chetan is recording an all Debussy record, which will be released later this year under Purple Dream Records as well as some releases of his own compositions. He resides in San Diego, California and lives with his wife, Melissa Tierra, who is also a talented and accomplished pianist and teacher. They met while they were both studying with Antonio Pompa-Baldi in Cleveland.