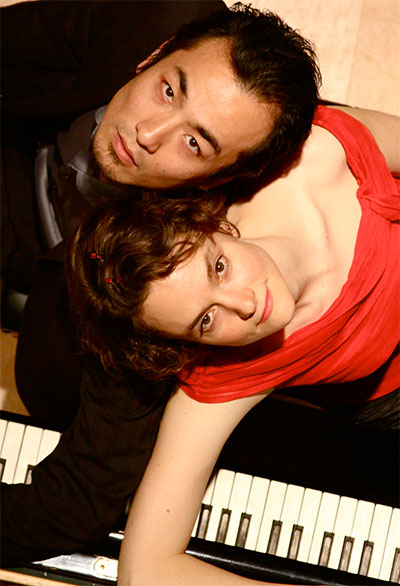 ZOFO Piano Duet
Four Hands – One Piano
Friday, March 21, 2014, 8 p.m.
Cabrillo VAPA Samper Recital Hall
6500 Soquel Drive, Aptos
"…jaw-dropping awesome!"
– San Francisco Examiner
"What happens when you sit two internationally acclaimed solo pianists down at one piano? …you get something energetically and electrifyingly out of this world."
Bachtrack review of World Premieres Concert
"Their performance was beyond brilliant."
Sloan Macrae, Performing Arts Live
Since joining forces as a professional ensemble in 2009, internationally acclaimed solo pianists EVA MARIA ZIMMERMANN and KEISUKE NAKAGOSHI ZOFO have electrified audiences from Carnegie Hall to Osaka Japan with their dazzling artistry and outside the box thematic programming for piano four hands. This Grammy nominated, prize winning Steinway Artist Ensemble one of only a handful of duos worldwide devoted exclusively to piano duets is blazing a bold new path for piano four hands groups by focusing on 20th and 21st century repertoire and by commissioning new works from noted composers each year.
ZOFO, which is shorthand for 20 finger orchestra (ZO=20 and FO=finger orchestra), also performs heart pumping duet arrangements of famous orchestral pieces such as Stravinsky's "Rite of Spring," exploring the realms in which many composers first experienced their symphonic visions.
Since its inception in 2009, ZOFO has made some remarkable achievements:
TWO GRAMMY NOMINATIONS: Best Chamber Music/Small Ensemble Performance and Producer of the Year, Classical, for their first album MIND MELD
FIRST PLACE: 2010 Bradshaw & Buono International Piano Competition
CARNEGIE HALL concert debut: May 2010
FINALISTS: 2011 Osaka International Chamber Music Competition only piano duo to be elevated to the final round
MULTI DISC RECORDING CONTRACT with Grammy Award winning Sono Luminus Records
Program:
George Gershwin (1898-1937): Cuban Overture (1932)
Allen Shawn (b.1948): Three Dance Portraits (1994)
Samuel Barber (1910-1981): Souvenirs Op.28 (1951)
Urmas Sisask (b. 1960): The Milky Way
Gustav Holst (1874-1935): The Planets excerpts (Mars, Venus, Mercury and Jupiter)
Keisuke Nakagoshi
Keisuke Nakagoshi began his piano studies at the age of ten, arriving in the United States from Japan at the age of 18. Mr. Nakagoshi earned his Bachelor=s degree in Composition and Masters Degree in Chamber Music from the San Francisco Conservatory of Music. Graduating as the recipient of multiple top awards, Keisuke was selected to represent the SFCM for the Kennedy Center's Conservatory Project, a program featuring the most promising young musicians from major conservatories across the United States.
Mr. Nakagoshi has performed as soloist to acclaim on prestigious concert stages across the United States, in cluding the Kennedy Center, Carnegie Hall, the Hollywood Bowl, and Davies Symphony Hall in San Francisco. He has received training from some of the most celebrated musicians of our time Emanuel Ax, Gilbert Kalish, Menahem Pressler, Robert Mann, Norman Fisher and the Peabody Trio.
Mr. Nakagoshi is Pianist in Residence at The San Francisco Conservatory of Music.
Eva Maria Zimmermann
Dynamic Swiss pianist Eva Maria Zimmermann maintains a robust career in Europe and the United States, offering performances that are "breathtakingly intense" (Der Bund) and "passionate and deeply expressive" (Berner Oberlander). Her solo appearances involve recitals as well as concerto performances with major symphonies, including the Orchestre de la Suisse Romande. Winner of the prestigious Rotary International Ambassadorial Scholarship, Ms. Zimmermann has appeared at international festivals worldwide, including the "Festival Piano en Saintonge" France, the "Sommerfestspiele Murten" Switzerland, and San Francisco's "Other Minds Festival of New Music." A graduate with highest honors from the Conservatory of Geneva, Eva Maria has studied with many distinguished musicians Leon Fleisher, György Sebök, Leonard Hokanson and Dominique Merlet, among others.
As an educator, Eva Maria has been a faculty member of the University of San Francisco and currently teaches in the music program at the Nueva School in Hillsborough, CA, founded by Sir Yehudi Menuhi.