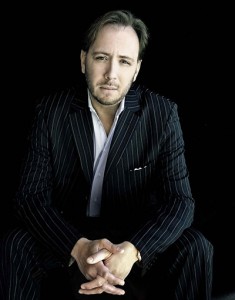 The young American pianist THOMAS PANDOLFI is an exciting virtuoso who, with each passing season, is becoming more and more sought after by audiences worldwide, and showered with superlatives by critics for his passionate artistry and amazing technique. His orchestral appearances often feature not only the beloved masterpiece concerti by Tchaikovsky, Rachmaninov and Liszt, but also equally brilliant ones by Paderewski, Rubinstein and Moszkowski.
Thomas is considered a leading interpreter of the works of George Gershwin. While the 2008-09 season marked Thomas' debut recitals in Canada, Germany and China, the 2009-10 season highlighted his debut in London, as well as return engagements throughout Eastern Europe, and concerts both as recitalist and soloist with orchestras across the United States.
Pandolfi released his 6th CD album in 2010, and returned to China in August of 2011. Additionally, he made his recital debut in Toronto and performed highly successful and acclaimed recital tours across the United States. Audiences during 2014-15 will enjoy his artistry in an expanded 21 state recital tour. Thomas will also be making his debut with the Lafayette Symphony and Nicholas Palmer in The James Bond Concerto and Warsaw Concerto, and his debut with The McLean Orchestra in Rachmaninov's Piano Concerto No. 2 under Miriam Burns. He will also return as guest soloist with The Washington Metropolitan Philharmonic and Ulysses James in Brahms' First Piano Concerto. Following a violin concerto for Midori, and a saxophone concerto for Brandford Marsalis, film and concert composers Kim Allen Kluge and Kathryn Vassar Kluge are now composing a piano concerto for Thomas, who is most honored and very excited to be involved in this thrilling project. A graduate of The Juilliard School, Pandolfi earned both his Bachelor's and Master's degrees as a scholarship student. He is the father of two beautiful children, and resides in Washington, DC.
Follow Thomas: Facebook: @ThomasPandolfiPianist Twitter: @TPandolfiPiano
Visit his website: Thomas Pandolfi
The Classics with a Touch of Poetry
Mozart, Beethoven (Pathetique Sonata, one of  the composer's most celebrated compositions), the famous Impromtu in A-Flat by Schubert, Franz Liszt's Liebestraum (Dream of Love) and others.