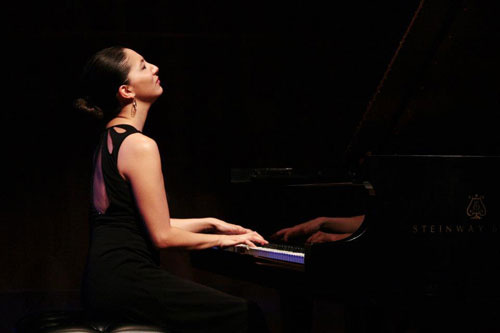 Even though artists are notorious for dealing with mental health issues, the idea that art can only be created from suffering and pain is a statement that truly troubles me. Art is a celebration of life and a way to acknowledge that every person, regardless of their personal circumstances, can contribute beauty to this world. But, the number of composers that have dealt with mental illness is staggering, as are the statistics of people in the world that deal with mental health issues in their own lives, and approaching the subject is unfortunately still taboo.
As my attempt to combat the stigma, I am trying to bring attention to mental health in my choice of programming. Presenting works of composers who have dealt with mental illness in their own lives, I am showing the issues in a positive light, demonstrating the enormous contributions to society that these composers have given us. I hope to enable the audience to feel comfortable talking about these issues and to be supportive of those that deal with mental illness in their own lives.
The program is called "Committed"—a word with a strong negative connotation when it comes to mental health, but also simultaneously positive in showing a commitment to changing the status quo. The recital features five sets of pieces, all highlighting issues of mental health.
George Frideric Handel suffered from bipolar disorder, even writing the "Messiah" in seventeen days during a manic phase.
Ludwig van Beethoven also had bipolar disorder, and he wrote 400 conversation books with his friends in the last ten years of his life, discussing his thoughts and insights into art, filled with negativity and pessimism. 264 of these books were destroyed after his death by his biographer in order to create an idealized image of his life.
The Demian Sonata, by Arturo Cardelus, is based on one of my favorite books, Demian, by Hermann Hesse, written in a period he described as a "white heat". Demian, whose title came to Hesse in a dream, is the direct outgrowth of his psychoanalysis of 1916-17. In the final section of the book, the protagonist is able to come to terms with his life and himself, finding balance between the "world of light" as well as the "world of illusion", showing acceptance in between two extremes of being.
Alexei Stanchinsky was a Russian composer who was hailed a genius by such renowned composers as Prokofiev and Medtner, but died at the age of 26 from a possible suicide, his body found drowned mysteriously near a creek. Stanchinsky had spent a year of his youth in an institution and was pronounced "incurably insane". He often destroyed his own compositions in fits of hallucination and rage.
Sergei Rachmaninov suffered from clinical depression and had a nervous breakdown. His struggle dealing with mental illness is well documented and he even dedicated his Second Piano Concerto to his psychiatrist, Nikolai Dahl.
The variety of the program and the centuries that it encompasses also lead back to the thought that music is a universally encompassing art and contains truths that remain throughout the passing of time.
*

September 16,2013
Click here to view the recent article in Aptos Times showcasing Tanya Gabriellan.
*
Program List
Sarabande and Chaconne from Almira            George Frideric Handel (1685-1759)
arr. Franz Liszt (1811-1886)
 Two Mazurkas            Alexei Stanchinsky (1888-1914)            
 Morceaux de fantasie, Op. 3            Sergei Vasilievich Rachmaninov (1873-1943)
Elegie
            Prelude
            Melodie
            Polichinelle
      Serenade
 Intermission
 Demian Sonata            Arturo Cardelus (b. 1981)
Furioso
    Sospeso
   Furioso
Sonata Op. 111            Ludwig van Beethoven (1770-1827)
Maestoso – Allegro con brio ed appassionato
      Arietta: Adagio molto, semplice e cantabile