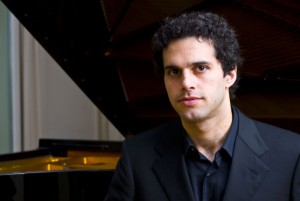 ALL BEETHOVEN PIANO CONCERT
8 PM Saturday, October 19, 2013
First Congregational Church
900 High Street, Santa Cruz
"Purchase Tickets" link above
By popular demand, Soheil Nasseri returns to Santa Cruz for a performance of all-Beethoven piano music. At his first Santa Cruz concert in 2011, Soheil finished his performance with Beethoven's challenging Hammerklavier Sonata to a wildly enthusiastic audience response.
From the Aptos Times:
"[The] performance showed how Soheil Nasseri, with his prodigious effortless technique, a wide range of expressive tonal colors and dynamics conjured with abandon the most impassioned and riveting performance of Beethoven's Hammerklavier."
From Peninsula Reviews:
"Judging from a moment's glance at the rapturous expression on the faces in the audience, there was not a drowsy eye in the house. Almost on cue, at the conclusion of the last note of the electrifying fugue of the last movement [of the Hammerklavier], the audience leapt to its feet loud in thunderous applause and praise."
Soheil Nasseri is fulfilling his pledge to perform all of Beethoven's piano works by the 250th anniversary of Beethoven's birth in 2020.  To date, he has performed 30 of Beethoven's 32 piano sonatas.
Come and hear Beethoven as you may have never heard it before!  Click on the "Purchase Tickets" link near the top of this page.
Pianist Soheil Nasseri has been lauded by The New York Times as "consistently interesting… consistently thoughtful… a vivid imagination. Filled with character…" and by the Berliner Zeitung as "Fantastic! A real talent. [In Beethoven] We in the audience could not possibly have had more fun." In addition to critical acclaim for his playing, The New Yorker has noted that Mr. Nasseri is "one of New York's most prolific recitalists." Since 2001 he has performed 20 completely different solo recital programs in New York, all without repeating a single piece: at Carnegie Hall's Weill Recital Hall, at Alice Tully Hall, Lincoln Center, and at Merkin Concert Hall. These concerts included 25 premières of contemporary works in addition to 30 of Beethoven's 32 piano sonatas, a part of Mr. Nasseri's pledge to perform all of Beethoven's works involving piano by the 250th anniversary of Beethoven's birth in 2020.
Mr. Nasseri made his European debut in 2004 at Teatro Massimo in Palermo, Sicily. Since then he has performed in some of the most prestigious concert halls in the world: in addition to his regular New York concerts, he has performed solo recitals or concerti at the Terrace Theater of the Kennedy Center in Washington, Berlin's Philharmonie Kammermusiksaal, Berlin's Konzerthaus, London's Purcell Room at the Southbank Centre, Tokyo's Musashino Center, Florence's Teatro Comunale, and Palermo's Teatro Politeama, as well as concerts in Montreal (Canada), Dublin (Ireland), Bucharest (Romania), Santa Cruz (California), Portland (Oregon), Baltimore (Maryland), Jacksonville (Florida), Savannah (Georgia), Norfolk (Virginia), and Tehran (Iran). As concerto soloist Mr. Nasseri has appeared with conductors Fabio del Cioppo, Justus Frantz, David LaMarche, John Lopez, Edward Polochick, and Ormsby Wilkins, and he is also active as a chamber musician, playing 4 piano quintets at Bargemusic in New York and collaborating with a tenor on the Beethoven Lieder. In 2010 he joined the American Ballet Theatre for 9 all-Chopin performances at the Metropolitan Opera House in New York, playing a costumed role onstage in the ballet Lady of the Camellias, both acting and performing solo and concerto works.
Major performances in the 2012-13 season will include piano concerti in Waukesha (Wisconsin) with Alexander Platt and the Wisconsin Philharmonic, Markand Thakar and the Baltimore Chamber Orchestra (Maryland), Alexander Dmitriev and the Academic Symphony Orchestra of the St. Petersburg Philharmonia (Russia), and Timothy Smith and the Contra Costa Chamber Orchestra (California), as well as debuts in Cincinnati (Ohio) and Bordeaux (France).
Another of Soheil Nasseri's interests has been music education: he has given concerts at more than 60 public schools in the U.S. since 2003. Mr. Nasseri also regularly performs new music and as such 9 composers have written pieces specifically for him: Richard Danielpour, Avner Dorman, Hormoz Farhat, Martin Kennedy, Samir Odeh-Tamimi, Haskell Small, Ronn Yedidia, Ljova Zhurbin, and Samuel Zyman. As a recording artist he has 6 solo albums on the Naxos, Centaur, Mahoor, and 21CCC labels.
Born in Santa Monica, California, Soheil Nasseri began studying the piano at the age of five and at the age of twenty moved to New York in part to study with Karl Ulrich Schnabel. In 2001 Mr. Nasseri became a protégé of Jerome Lowenthal who remains Mr. Nasseri's mentor today, along with Claude Frank. Other teachers include Irina Edelman, Anna Balakerskaia, Clinton Adams, Eva Pierrou, and Ann Schein.
Soheil Nasseri divides his time between residences in New York and Berlin.