Raffi Besalyan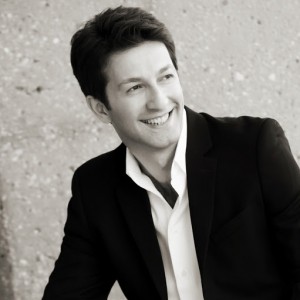 Raffi Besalyan, pianist
 Saturday, March 28, 7:30, 2014
PROGRAM:
Komitas – "Spring"
E. Baghdassarian – Prelude in b minor
A. Babajanian – Prelude, Melody, Elegie, Vagharshapat Dance
S. Rachmaninoff – Preludes Op. 3, No.2, Op. 23, Nos. 5, 6, 7
S. Rachmaninoff – Etudes-Tableaux Op. 39, Nos. 1 and 6
INTERMISSION
N. Kapustin – Prelude Op. 53, No. 9 and Jazz Etude Op. 40, No. 8
G. Gershwin – Three Preludes
G. Gershwin  – Rhapsody in Blue (Piano Solo)
Hailed as "a true heir of the mainstream of Russian pianism, like Horowitz" (Chopin Magazine, Japan), "a keyboard phenomenon that needs to be heard by everyone interested in pianists and the piano" (Fanfare Magazine, USA), "a formidable pianist with a commanding presence and rich interpretive gifts" (American Record Guide Magazine), "a master of his art" (The Record Geijutsu Magazine, Japan), Raffi Besalyan has established an international reputation of a magnetic and passionate performer. Active as a recitalist, orchestral soloist, and chamber musician, Besalyan appears in many important music venues worldwide. Critics on both sides of the Atlantic have praised his performances for their virility, poetry and extraordinary technical command.
Armenian-born American pianist Besalyan made his formal New York debut in Carnegie Hall after winning the Artists International Competition, and was subsequently invited to perform at Merkin Concert Hall on the Artists International "Outstanding Alumni-Winners" series. New York Concert Review described him as "Technically brilliant… Besalyan played with a great deal of temperament, speed and power… audacious spirit and poetic substance, deeply felt tenderness…" Most recently Besalyan made his Chicago debut in famed Orchestra Hall at Symphony Center as the featured Guest Artist for the Chicago International Music Festival.
Among his other competition awards are top prizes received from the Josef Hofmann International Piano Competition, the New York Frinna Awerbuch International Competition, and the MTNA National Piano Competition.
In 2014, Dr. Besalyan joined the faculty of Georgia State University in Atlanta where he is currently Assistant Professor of Piano. Former faculty member of the University of Wisconsin-Stevens Point and Rowan University in New Jersey, he also served on the faculties of Festival Musica in Laguna in Venice, Italy, and the International Summer Music Festival at Rowan. Besalyan has been active as an adjudicator for PTNA and Osaka International Piano Competition in Japan, International Chopin Piano Competition in Asia, competitions in Italy, and for various chapters of MTNA.