The Kostov-Valkov Duo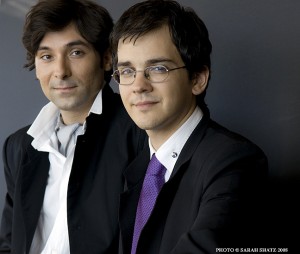 Lachezar Kostov, cellist and Viktor Valkov, pianist
Saturday, September 27 , 7:30 PM
Peace United Church, 900 High Street, Santa Cruz
Master Class: September 28, 2 pm
PROGRAM:
Johann Sebastian Bach – Gamba Sonata in g minor, BWV 1029
Ludwig van Beethoven – Sonata for piano and cello op. 102 n 2, D major
Frederick Chopin – Grand Duo Concertant
– Intermission –
Sergei Rachmaninov – Sonata for cello and piano, op. 19
Hailed for the "awesome purity of his playing", and described as a "prodigiously skilled protagonist" Bulgarian cellist Lachezar Kostov was the National Winner at the 2006 MTNA Young Artists Competition and has won numerous prizes including the Cello Award at the Kingsville Competition in 2005, first prize at the Hendersonville Chamber Music Competition, and the Grand Prix at the International Music and Earth Competition in Bulgaria. He has appeared as a guest soloist and chamber musician throughout the United States, Japan, Italy, Germany, the United Kingdom and Bulgaria. Having spent three consecutive summers at the Tanglewood Music Center, Mr. Kostov was a member of the resident ensemble "The New Fromm Players", collaborating with prominent American composers such as John Harbison, Ellen Zwilich and Harvey Solberger and participating in master classes with Yo Yo Ma and James Levine.
In the past three seasons Mr. Kostov performed series of concerts in Japan, including concerts as a soloist of the Philharmonic Orchestras of Hino and Tachikawa, as well as recitals in Tokyo's Sakura Hall and Oji Hall, where he performed with Japanese pianist Ai Shimizu. In May 2008, he performed a recital at Weill Hall, sponsored by the "Bulgarian Treasures" Foundation. In March 2009, Mr. Kostov made his official debut at Carnegie Hall's ZANKEL Hall performing rarely heard works for cello and piano by Zwilich, Roslavets, Kabalevsky and Saint-Saens. Both concert featured his longtime friend and chamber music partner, pianist Viktor Valkov.
Lachezar Kostov is a Doctor of Musical Arts candidate at Rice University, where he studies with Norman Fischer. He also holds diplomas from North Carolina School of the Arts and Yale School of music, where he was tutored by Zvi Plesser and Aldo Parisot.
Mr. Kostov's first commercial CD was released by NAXOS in 2011 and was immediately featured in "The Strad Magazine", and "American Record Guide". Highlights of the last seasons include concerto appearances with the Texas Music Festival orchestra, conducted by Carl Saint-Claire and a residency at the La Jolla Summer Fest, where he performed with artists such as Cho Liang Lin, Augustin Hadelich and the Tokyo String Quartet. In October 2011 Lachezar Kostov and Viktor Valkov won the First Prize and all the special prizes at the 2011 International Liszt-Garrison Piano and Duo Competition in Baltimore, MD.
In the 2012-13 season Mr. Kostov performed at the Gewandhaus Hall in Leipzig as the soloist of the Academischer Orchestra of Leipzig, at Oji Hall in Tokyo, and was the featured soloist in Prokofiev's Sinfonia Concertante op. 125 with the Shepherd School Orchestra.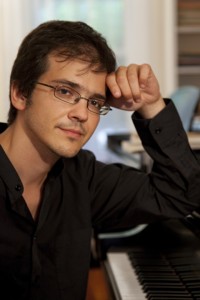 Winner of the 2012 New Orleans International Piano Competition, Viktor Valkov has been highly acclaimed by the critics as "lion of the keyboard" and "sensational". In the 2013-2014 concert season he is scheduled to perform with the Louisiana Philharmonic Orchestra, Baton Rouge Symphony Orchestra, and Acadiana Symphony Orchestra.
Since 2002 Valkov has given a number of recitals in USA, Japan, Germany, Italy, Greece, Bulgaria, and Macedonia. A Japanese tour in 2002 took him to Tokyo, Toyama, Yokohama and Okinawa. In Bulgaria, Viktor Valkov appeared in performances with most of the major orchestras and at most of the important music festivals. In 2003, he received an invitation from the New Symphony Orchestra, and conductor Rossen Milanov, to perform Dimitar Nenov's Grande Piano Concerto. Thus he became the fifth pianist to perform that concerto and the only one to do the entire version. In 2007, Mr.Valkov made his debut with the Sofia Philharmonic Orchestra.
Mr.Valkov's concert activities reflect a vast interest in the chamber music repertoire, as well as lesser known piano music. He frequently performs with the Bulgarian cellist, Lachezar Kostov, in a cello and piano duo. Both being deeply interested in broadening the repertoire for that medium, they often include in their programs composers like Kabalevsky, Roslavetz, Schnittke, Saint-Saens (the Second cello Sonata), and others. Their close friendship and professional collaboration began in 2000. In 2009, the Kostov-Valkov Duo gave their Carnegie Hall debut at Zankel Hall. In 2011 they won the Liszt-Garisson International Competition, where they were awarded First Prize, the overall Liszt Prize as well as all the special prizes in the collaborative artists category.
As a solo performer one of Mr.Valkov's last projects featured Busoni's Fantasia Contrappuntistica as the focal point of his concert programs. During the 2011- 2012 Viktor Valkov presented a program of music from the 1600's including composers like Froberger, L Couperin, Frescobaldi, Buxtehude and selections from the Fitzwilliam Virginal Book.
Mr.Valkov has made a number of recordings for the Bulgarian National Radio archive, many of which have been broadcast. He has also recorded for Bulgarian National Television and Macedonian Radio and Television. In 2008 he recorded the entire music for cello and piano by Nikolay Roslavets in collaboration with the cellist Lachezar Kostov. This CD was released by NAXOS in March 2011.
Viktor Valkov studied at the State Music Academy in Sofia, Bulgaria with Prof. Stella Dimitrova and subsequently in the Folkwang Hochschule in Essen,Germany with Michael Roll. In 2006 he enrolled at the Juilliard School and earned his Masters Degree studying with Jerome Lowenthal and Matti Raekallio. In the fall of 2010, Viktor Valkov started pursuing a DMA Degree at the Rice University, Houston with Jon Kimura Parker.